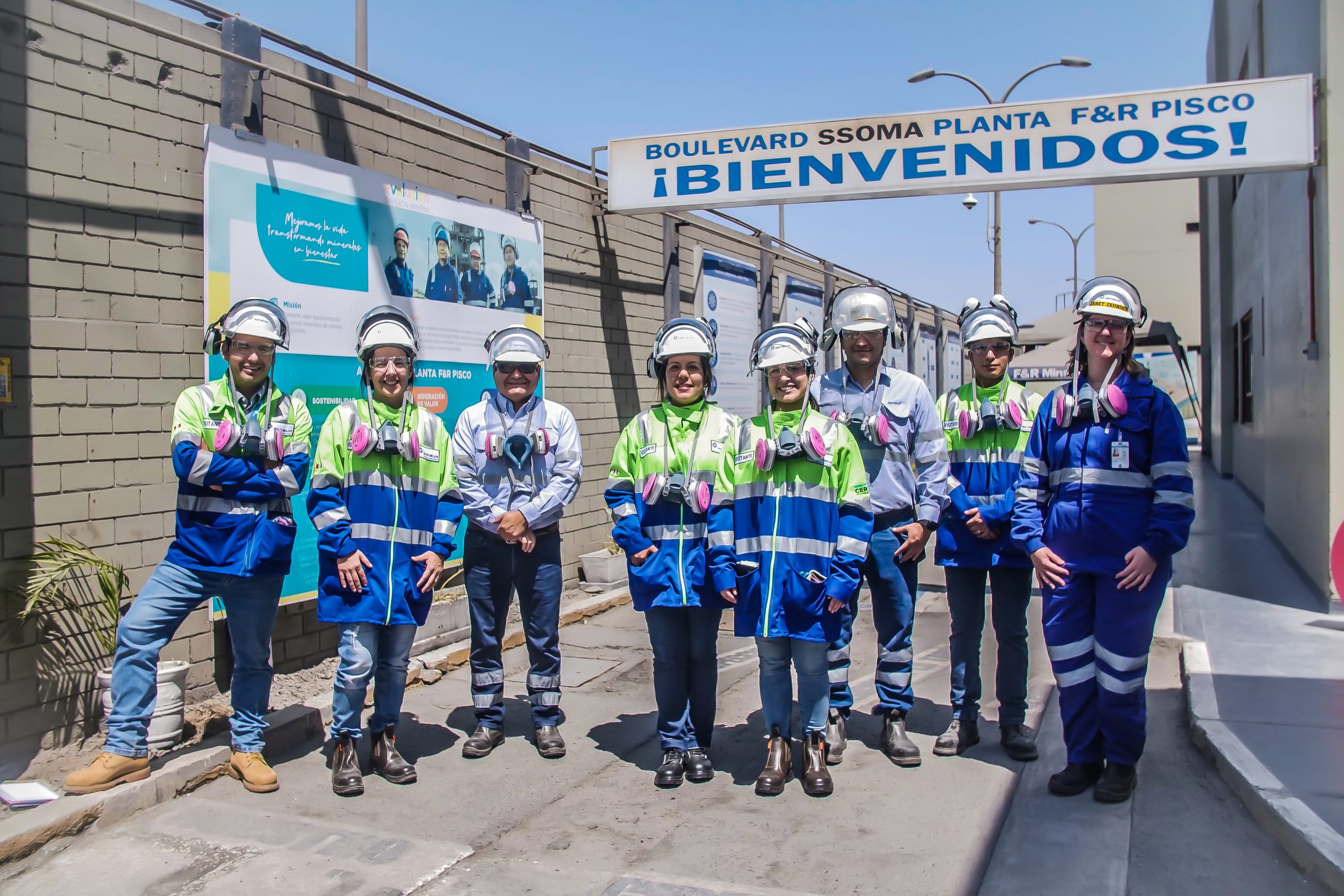 The Sustainability Standards Manager of the International Tin Association (ITA), Mayra Díaz del Olmo, visited us at our Pisco plant to learn about our smelting and refining processes.
She met with our Pisco plant's Operation Manager, Ivo Serkovic, and with executives of different departments, with whom she talked about relevant issues for the tin industry, the current international market situation, as well as the opportunities and challenges our industry has to deal with.
1.- How was your visit to our plant?
I liked it a lot! I especially enjoyed watching closely the world-class processes and good practices you use when processing tin. I knew them, thanks to the Tin Code, but getting to learn more about them 'in situ' and seeing how they are implemented in the field was a very good experience. I'm pleased to watch that you are making progress, implementing good practices and processes, aiming at making sustainable improvements.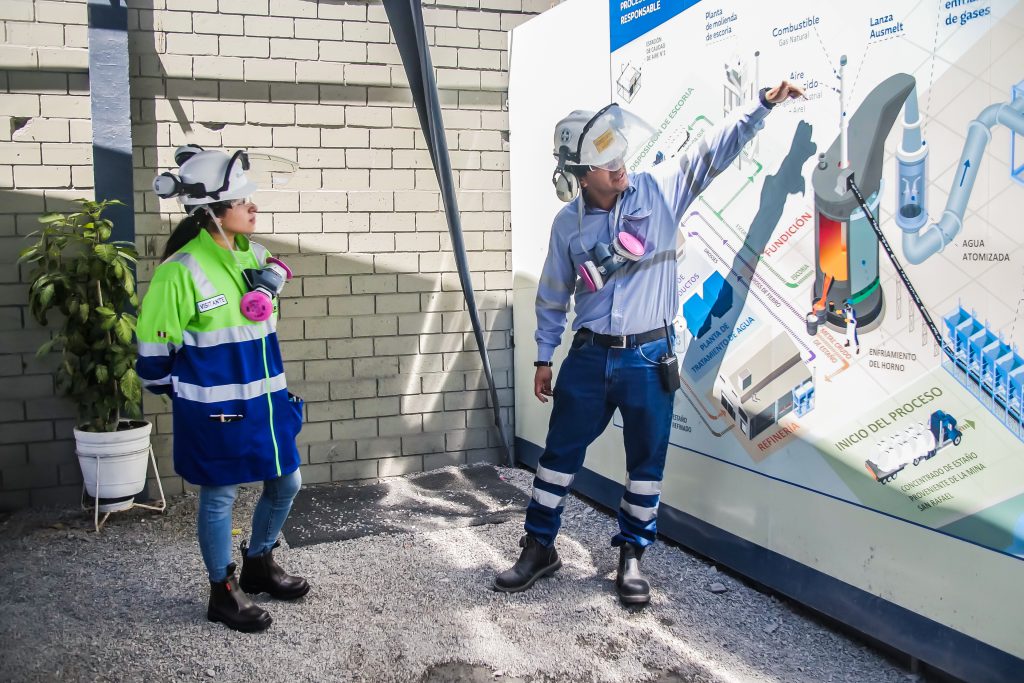 2.- What is the Tin Code?
The Tin Code is a standard and an operation performance reporting tool for the tin industry. It is designed for tin mining, smelting and recycling worldwide, and considers the expectations of tin consumers and other stakeholders. All ITA members have undertaken to adopt the Tin Code.
It comprises 10 principles that are supported by over 70 standards, focused on environmental, social and governance (ESG) issues.
3.- What challenges will face the tin industry?
Currently, we are working in the transition to low-carbon energy to reach net zero emissions. The tin industry will have unprecedented opportunities and challenges in the next decade. Furthermore, tin supply chains will have to adapt to address these challenges, and at the same time work together to manage greater ESG expectations.
This will be used to prove how the tin sector is building a better future for all, in line with the our strategic report prepared for the industry, TIN2030 A vision for tin, which was recently launched.
In the words of our CEO, Helen Prins, the next decade will see a wakeup to tin with a new wave of efforts to secure a sustainably sourced supply.
4.- What ESG demands are we dealing with?
To be able to take advantage of new opportunities, including the global energy transition, our industry must prove it has a vision and is committed to continuously improving ESG performance, and it shall contribute to the UN Sustainable Development Goals (SDG) for 2030.
The tin industry must strengthen efforts towards the best practices and full transparency in ESG disclosure across the value chain. Periodical audits will keep playing an important role, but it should be rebalanced, prioritizing gradual improvements through supply chain engagement. The tin Code will continue providing a common and credible standard for the global tin industry.
The industry shall adopt a comprehensive approach and companies shall work together to solve ESG problems.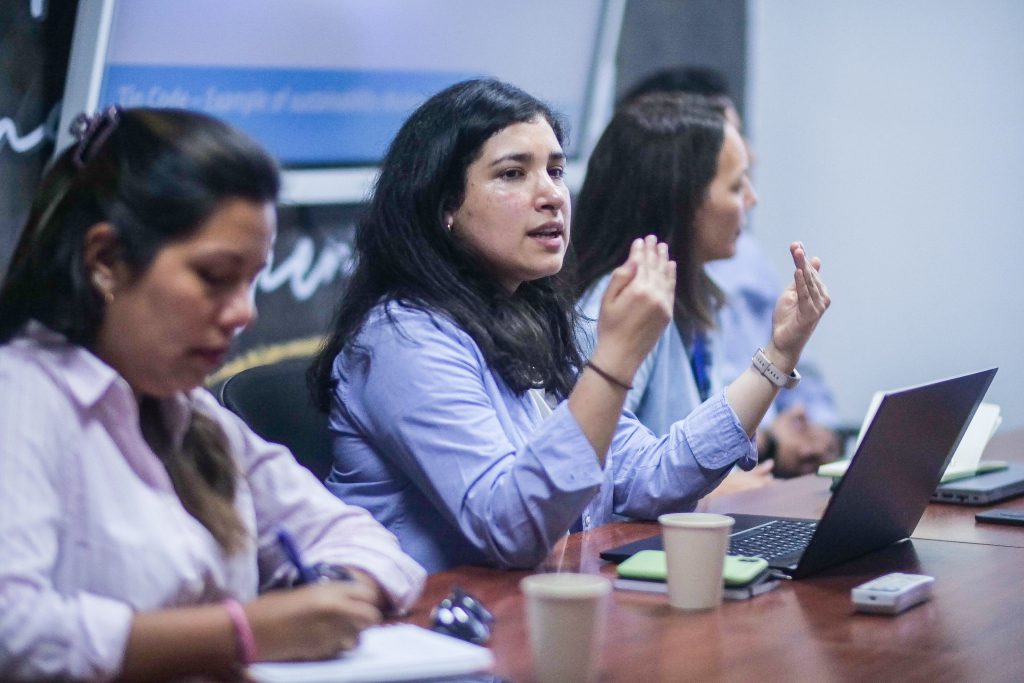 5.- What do you think about Minsur's sustainability management?
We have a very good relationship with Minsur. It is world-class member that is making great progress in sustainability issues, it has a good reputation, and we have high expectations in this regard. We have a very positive perspective.